Melania Trump's girl-on-girl photos from racy shoot revealed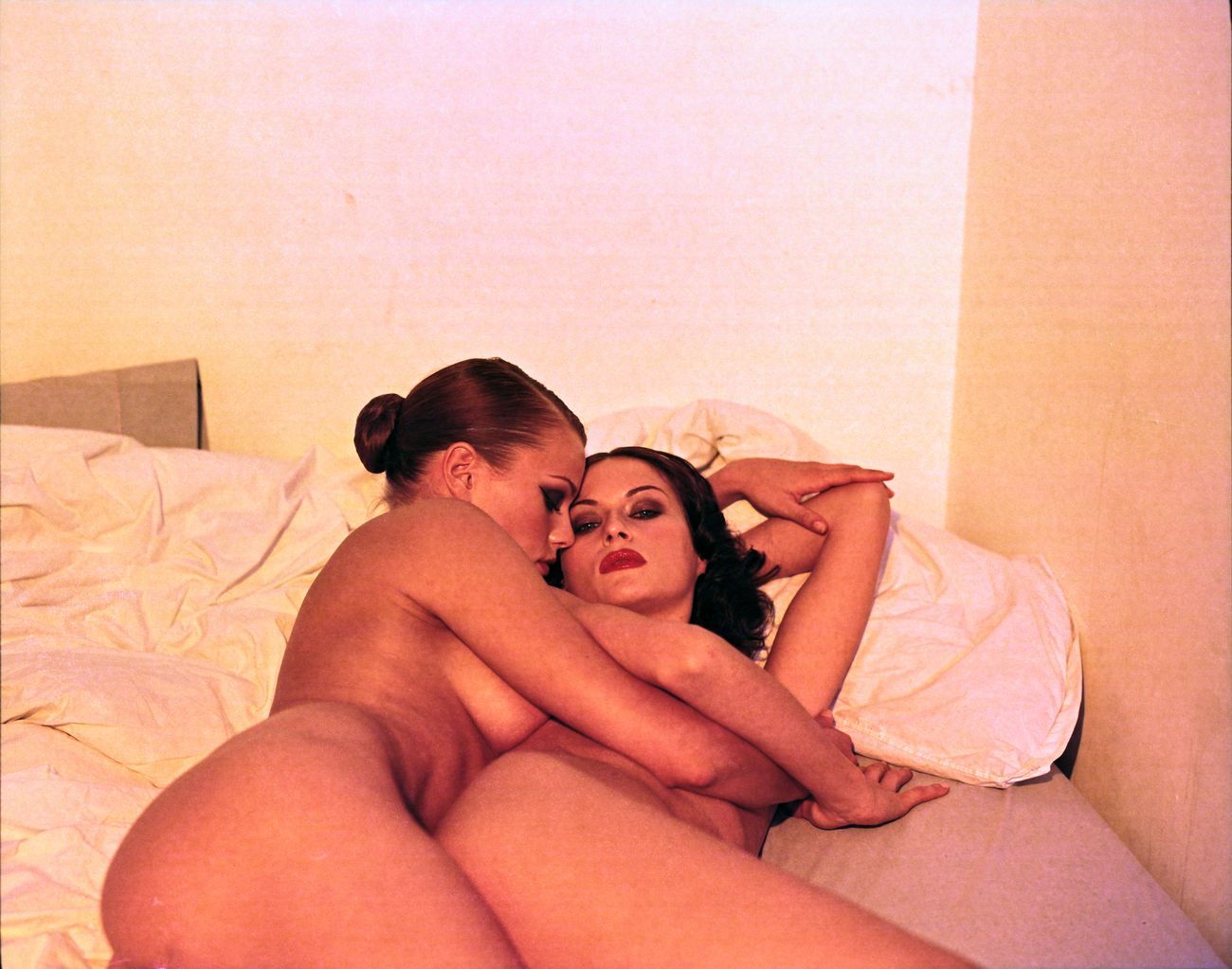 Here's the nation's would-be first lady — and right beside her, a second lady.
Three years before she met husband Donald Trump, Melania Trump was snapped in a nude frolic with another female model, bombshell photos obtained exclusively by The Post show.
The lesbian-themed pics are from a two-day photo shoot in Manhattan in 1995, when Melania Knauss, as she was called, was 25 years old and modeling under the name "Melania K."
(Photographer Alé de Basse­ville later told The Post that he misspoke, and the photo session actually took place in 1996 in Manhattan, and appeared in a 1997 issue of the magazine.)
Several were featured in Max Magazine, a now-defunct French men's monthly, more than 20 years ago. Others have never been in print — until now.
The raciest of the photos shows Melania lying nude in a bed as Scandinavian model Emma Eriksson, also naked, embraces her from behind, just below her breasts, which are fully exposed.
In another photo, Eriksson wears sheer stockings, a low-cut bustier, high heels and a long robe — all designed by John Galliano — and raises a whip as if preparing to spank Melania, who pretends to recoil. Melania is more conservatively dressed in a skin-tight gown and high heels.
"I always loved women together, because I have been with a lot of women who desired the ménage à trois," said Jarl Ale de Basseville, the French fashion photographer who snapped the pictures.
"This is beauty and not porn. I am always shocked by the porn industry because they are destroying the emotion and the essence of purity and simplicity."
SEE ALSO
The shoot took place in a Chelsea apartment that doubled as a photo studio, said de Basseville, a Paris artist and fashion photographer who was briefly based in New York in the mid-'90s.
Part of the shoot, which de Basseville said was inspired by Renaissance art, took place on the building's rooftop, said a fashion-industry insider who was present at one of the photo sessions.
Melania behaved "like a true professional" during one of the nighttime shoots with Eriksson, the source said.
"She was charming throughout," said the source, adding that the pics' lesbian theme didn't faze her. "She was always smiling, with a very pleasant personality and was polite and very well educated."
Melania had recently arrived in the city from modeling stints in Paris and Milan at the time. In Gotham, she was booked for mostly commercial work and was later featured in an ad for Camel cigarettes, the source told The Post.
Her sexy photo spread appeared in the January 1996 issue of Max Magazine, whose cover featured a photo of supermodel Cindy Crawford.
In addition to the lesbian-themed shots, de Basseville took several nude pictures of Melania from different angles.
In one of them, Melania pouts at the camera while clad only in stilettos. In another, her back is to the camera, and her arms are raised as if up against a wall.Play Video
"I think it is important to show the beauty and freedom of the woman, and I am very proud of these pictures because they celebrate Melania's beauty, '' de Basseville said.
Asked about the photos, Donald Trump said: "Melania was one of the most successful models, and she did many photo shoots, including for covers and major magazines. This was a picture taken for a European magazine prior to my knowing Melania. In Europe, pictures like this are very fashionable and common."
The Slovenian-born beauty, now 46, first met Trump at a Fashion Week party in 1998. They married in January 2005 and have one son, Baron, 10.
She has modeled for Sports Illustrated and Vogue among other publications, posing for such top photographers as Helmut Newton and Mario Testino.
By Isabel Vincent August 1, 2016 12:57am
Link to the New York post Article

2023 Ale de Basseville